Whole Wheat Pumpkin Bread
I'm one of those people who embraces pumpkin e v e r y t h i n g once the leaves turn even the slightest hint of yellow. It's a cozy, earthy flavor that pairs well with cinnamon—another of my favorite flavors—and my pumpkin bread is always a crowd-pleaser so I've got plenty of happy memories associated with it. A 5 lb. bag of flour only costs about $5 so pull up this recipe on your phone, round up yer ingredients, and get to baking! HAPPY FALL Y'ALL
My recipe is adapted from Laurie Bennett's Downeast Maine Pumpkin Bread. I use half the sugar and oil as originally called for and substitute pumpkin pie spice for individual spices because I'm lazy and can't be bothered to measure out each bit of cinnamon, clove, nutmeg, and ginger. I've defaulted to stocking white whole wheat flour over all-purpose flour in my pantry so that's what I call for in the recipe below, but it's totally okay to use whatever gluten-containing flour (e.g. all-purpose, regular whole wheat, a mix of both) you've got on hand. White whole wheat is slightly less dense than regular whole wheat but has more protein and fiber than all-purpose, hence my preference.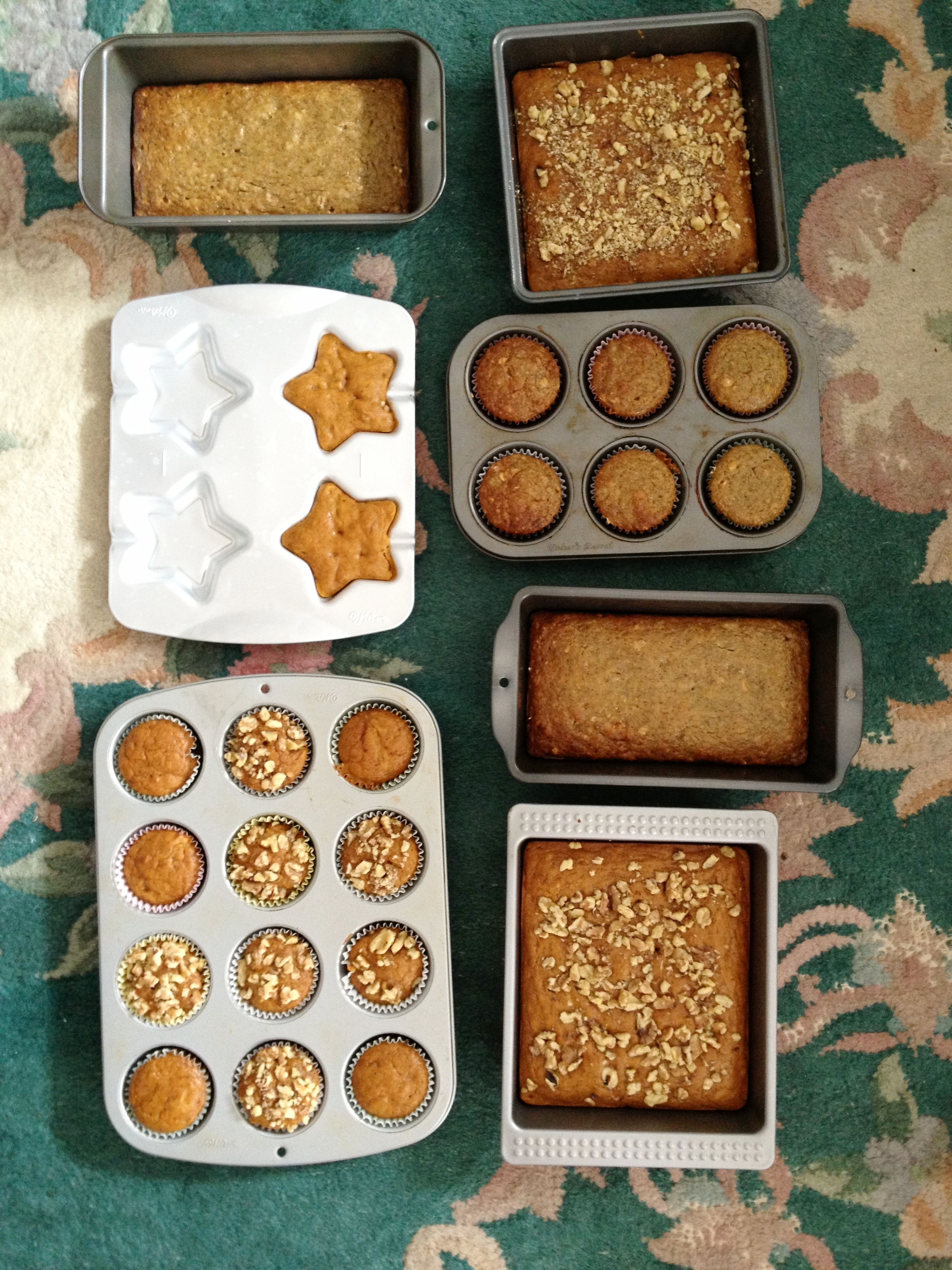 whole wheat pumpkin bread
Whole Wheat Pumpkin Bread
This is a not-too-sweet quick bread that is great gifted in loaf or muffin form--very moist and hearty. Feel free to use all-purpose flour in place of the white whole wheat flour for a lighter bread.
Ingredients
1 can (15 oz) pumpkin puree

3.5 cups white whole wheat flour

4 eggs

1/2 cup vegetable oil

1/2 cup unsweetened applesauce

1.5 cups brown sugar

2 teaspoons baking soda

2 teaspoon pumpkin pie spice

2/3 cup water

1 teaspoon salt

optional: chocolate chips (I prefer Nestle Toll House Dark Chocolate Morsels)
Instructions
- Preheat oven to 350 degrees F (175 degrees C). Grease three 7x3 inch loaf pans.
- In a large bowl, mix together the pumpkin puree, eggs, oil, applesauce, water. In another bowl, whisk together the flour, baking soda, salt, and pumpkin pie spice.
- Stir dry ingredients into the pumpkin mixture until incorporated--don't overmix or the bread will be too dense.
- Bake for ~50 minutes or until a toothpick (or piece of dry spaghetti, whatever you have on hand) inserted in the center comes out clean.
- If using mix-ins like chocolate chips, stir them in until just incorporated. Do not overmix batter or the resulting product will be tough.
Details
Prep time: 25 mins
Cook time: 50 mins
Total time: 1 hour 15 mins
Yield: three 7x3 loaves