Amsterdam City Guide
Of the twelve cities that I visited on my month-long Eurotrip, Amsterdam was my favorite destination. I spent a whirlwind five days there with my friend Alex, though technically two were half-days because I flew in from Lisbon during the evening of the first and left on the last day in the afternoon for Ghent. I think three full days is just enough for most travelers to hit up the main attractions (e.g. Rjiksmuseum, Van Gogh museum, Anne Frank House, "coffee" shops, etc) without being on a tight schedule like Alex and I were on.
The format of this guide*:
day-by-day summary of how I spent my time in Amsterdam

breakdown of my recommendations by sights and eats

suggested accommodation for your next trip

*none of my recommendations are sponsored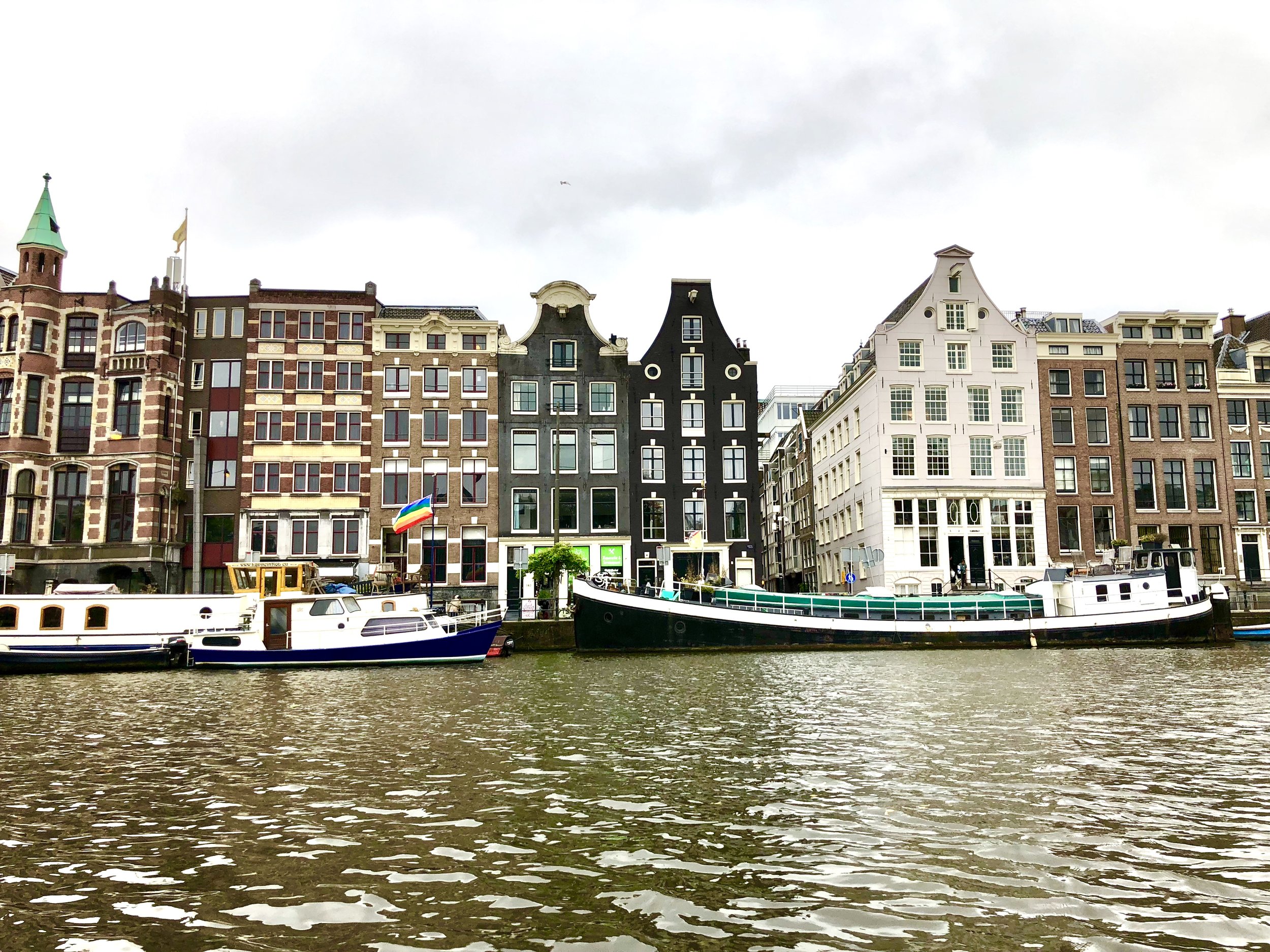 What to Eat/See & Where to Stay
Summary of 5 days in Amsterdam:
all items in bold are covered in more detail in the "Sights & Eats" section below
Day 1 (arrival)
We didn't book accom before we arrived (oops) and there were no Airbnbs within our budget (i.e. less than 100 USD/night) available that night, so Alex and I checked into Hostel Croydon for 1 night. We got dinner at Jacketz, wandered around the Red Light District, checked out The Bulldog (a famous "coffee shop"), and split a rainbow cake from Basjoe for dessert. Then we turned in for the night in our 10 bed mixed room (2 out of 10 recommend, quite cramped and noisy).
Day 2
Checked out of the hostel but left our bags in the lobby so that we could have brunch at Broodje Bert and catch a free walking tour. When the tour finished at 3pm, we grabbed our luggage and moved into our Airbnb in De Pijp neighborhood. Then we napped, headed out at 5pm to catch a free commuter ferry across the river to NDSM wharf and grabbed dinner at Pllek as recommended by Alex's friend. Checked out some street art (including the famous Anne Frank mosaic wall) nearby. Late night munchies: doner kebab near our Airbnb in De Pijp neighborhood (the Snapchat geofilter has a pipe!).
Day 3
Shopped for groceries at Jumbo City supermarket around the corner. Cooked a late brunch, packed picnic food, and headed to Amsterdam Centraal Station to buy 24-hour IAmAmsterdam attraction passes at the info center there. Activated passes at 3pm for entry into ARTIS Zoo (2 hours), picnicked inside, checked out Micropia next door (1 hour), then hopped on a 6:30pm canal cruise run by Lovers back near Centraal. After the cruise, we bought brownies from Bagheera to have the next day before we headed home to De Pijp.
Day 4
Ate breakfast, packed lunch, strolled through Albert Cuyp market, and got an order of poffertjes (mini Dutch pancakes) fresh off the griddle at one of the stalls. Took the tram to Rijksmuseum (Rembrandt's famous Night Watch is on display there, entire visit was about 1.5 hours), ate our lunch, and we each had a brownie for dessert. Visited the Van Gogh Museum (1 hour), then browsed the Stedelijk modern art museum (2 hours). Had an early dinner at Pancakes Upstairs (we got the last table at 5pm), and chilled at home for a bit before venturing back out to catch the sunset at Vondelpark where Picasso's The Fish sculpture is located.
Day 5 (departure)
We stopped by Jumbo City early in the morning to get snacks for the next leg of our Eurotrips and parted ways at Amsterdam Centraal Station—Alex to Madrid, Spain and me to Ghent, Belgium.
Catch a free walking tour! This is good advice for any European city you visit, as free walking tours are widely available (i.e. offered every 2 or 3 hours, the most common times being 10/11am and 1/2pm). They're a fantastic source of history and insider tips, because they're usually run by locals, or at least foreigners who've lived in the city for several years and love it so much that they become tour guides. Browsing the top result of "free walking tour *insert city here*" on Google and crosschecking with Tripadvisor will bring you to the right departure location. I especially like to do walking tours within the first two days of arriving in a city, because they cover major attractions and give me an idea of where I'd like to go back and visit on my own time. It's generally advised to RSVP online the day before you want to attend a tour so that the guides know to wait up in case you arrive at the meeting point late, but it's also totally okay to show up ten minutes before the scheduled departure time and join the huddle of people (the tour guides usually hold up a brightly colored umbrella). If you're pleased with the service, you are encouraged to tip the guide at the end. I usually give 5 euros, which is a steal, considering conventional guided tours can cost upwards of 20€ for the same 2-3 hours. In Amsterdam, we went with Sandeman Tours and I highly recommend them. Some fun facts we learned on our tour:

The Dutch are the tallest people in the world.

Many houses have hooks that extend from the roof, which is used as part of the pulley system for hoisting goods up multiple stories. I can tell you from personal experience that the stairs of most homes in Amsterdam are quite narrow, so this outdoor pulley system makes sense. Haven't yet seen anyone hoist a grand piano up the side of an apartment building though...

Our guide claims, "Amsterdam is better than Venice for two reasons. The first reason is that we have 165 canals. Venice has 150. The second is that Venice smells because everything is compact and they don't have a filtration system."
The Begijnhof is a walled complex that once housed beguines (begijnen), convent women who'd care for the orphans next door in what is now the Amsterdam Museum. Amsterdam's oldest wooden house (houten huis), dating back to 1420, can also be found here. The last beguine died in 1791, but the apartments today are still inhabited by single women. Apparently the waiting list for a spot in the Begijnhof is 25-30 years long. Admission into the courtyard is free, but please remain quiet as it is a residential area.
Check out NDSM Wharf, a former shipyard that's now home to street art, eclectic eats, and cultural performances. To get there, take a free ferry that leaves from behind Centraal Station. Knock out two birds with one stone by grabbing dinner at Pllek at the wharf. Read more about Pllek in the Eats section below.
Buy 24- or 48-hour IAmAmsterdam city passes. They're good for free admission to 60+ museums and free public transportation. A 24 hour pass (64€) pays for itself if you visit 3 museums or do 2 museums and a canal cruise, not to mention saves you from paying 3€ every time you take the tram.
ARTIS Zoo, short for Natura Artis Magistra, is the oldest zoo in the Netherlands. Alex and I spent about 2 hours going through the entire park. I'm pretty meticulous when I browse exhibits though; I read every info placard and try to match it with the corresponding animal in the enclosure, so you might spend a little less time going through the zoo. There's a "Lemur Island" where red ruffed lemurs roam freely, allowing you to get up close & personal, and an aquarium, planetarium, and open aviary. Fun fact: three summers ago, I spent 7 hours in the Singapore Zoo by myself. I stayed so late that a security guard politely kicked me out at closing time, but not before asking me to take a selfie with him.
Micropia is an educational museum with interactive exhibits showing how microorganisms are integral to daily life. Learn about microbes of the human body, watch leaf-cutter ants scuttle back and forth from their underground colony, and see how many microbes people exchange on the completely-voluntary "Kiss Cam". You'll be more amazed than disgusted, I guarantee it.
Take an hour-long cruise on the famous canals of Amsterdam. I boarded for free because I had a 24-hour IAmAmsterdam city pass, but tickets are about 18€ on their own. Everyone receives a pair of earphones to tune into the audio tour in the language of their choice. It was a great way to pass some time in the evening, since most museums close at 5pm.
I was SO hyped to visit Albert Cuyp Market because I saw a Facebook video introducing all sorts of amazing foods you can find there, but I visited it early in the morning when most of the vendors were still setting up so I didn't get to check everything off my list. I did get some melt-in-your-mouth poffertjes though. Lil' bites of tender pancake heaven. The market is open 9-5am every day except Sundays. I recommend going closer to 11am when the vendors are all set up.
The Van Gogh museum is smaller but still definitely worth a visit cause it's got the world's largest collection of works by Van Gogh in one place. Entrances must be reserved online and tickets picked up in person. In addition to his self-portraits, you can find the artist's letters to his family and learn about his use of the perspective frame. Admission is also free with the IAA card.
WHERE TO STAY:
If you're traveling with a friend, I'd split an Airbnb (mine recommended below) rather than stay in a hostel; you'll quite appreciate the extra space and not having to share a bathroom with 10+ people at the end of a long day exploring, and it comes out to about the same price per person (if you book ahead of time). However, if you are considering hostels, I did a bunch of research on r/solotravel for hostel recommendations in Amsterdam. Here are the recs I dug up:
Clink Noord — cheap & clean, can take the free ferry over to the city center whenever you want. about 55 euros/night (63USD) during the high season (Apr-Aug, Dec-Jan).

Flying Pig Downtown — free brekkie, big security locker, 24hr smoke room, good wifi, great bar.

Flying Pig Noordwijk — situated on a beach(!) with a cheap shuttle service to the city center

Shelter City — drug- and alcohol- free hostel that provides single gender bunk beds and private rooms. it's officially known as Shelter City Christian Hostel, but they don't inquire/mind if your beliefs are otherwise. I initially booked SC for my stay in Amsterdam, but cancelled my booking when Alex decided to fly with me to Amsterdam last-minute.

The Bulldog — one of the most highly rated hostels in Ams. Recommended for partiers; residents are social and stay out late.

Cocomama — once a brothel, now a very popular hostel that's often sold out.

Generator — average price of $60/night, hotel-vibe with fun social aspect. like many of the other hostels listed, it hosts a bar crawl and social space for meeting other guests

St. Christopher's — similarly well-regarded, has free breakfast

Van Gogh Hostel — nice and accessible, clean.

DON'T stay at Travel Hostel. a couple redditors chimed in about it and I took note.
For Airbnb's: Alex and I stayed at one of Brenda's properties (1 bdr w/ kitchen & cat!) and loved it. My review:
"Brenda was a darling and I would definitely stay here again if I ever came back to Amsterdam. Her place in De Pijp neighborhood is two min walk from a 15 min tram ride away from the city center and I appreciated being in a quiet neighborhood that still had lots going on; Albert Cuypmarket is a two minute walk down the block, and there's a cheap supermarket, Jumbo City, right around the corner from us. She made an effort to get to know us when we first arrived, invited us to have tea in her garden, and introduced us to the cat (which quickly took to us) that lives in the apartment as well. Kitchen and in-unit washer worked great; we cooked on multiple occasions and did laundry once. My friend and I had a fabulous time at this Airbnb and I recommend it to everyone :)"
If you've got more recommendations for Amsterdam, list 'em below! I can't wait to go back and venture out to the Keukenhof tulip fields when they're in season. If you're going anytime soon and live in the Boston area, PLEASE bring back a pack of chocolate-covered cookies for me. Will luv u 5ever.