Recycling at MIT
The dorms are a hot mess when students move out of their rooms for the summer, because non-graduating students must check out by noon on a certain day (lest they pay a fee) and we all procrastinate on packing up our belongings. There are only so many boxes one can afford to fit into a U-Haul, and the need to leave items behind is understandable, but man, so much good stuff is abandoned.
Over the years, I've scavenged around and scored a vacuum, an unopened 5lb container of protein powder, a pair of tall Hunter rainboots, a pair of Uggs, a bungee chair, an egg crate mattress pad, a box of laundry pods, and a desk lamp, to name a few. For all the packs of granola bars I couldn't save, I am sorry. But for everything else, it has its place, and oftentimes, it's not the trash.
Trash2Treasure at MIT is a great program that stores unwanted clothing & dorm accessories over the summer to resell to students in the fall, but they physically don't have the space to save everything that each dorm leaves behind. The least we can do as residents is to make sure that our junk is properly disposed of.
MIT recycling says...
Items that can be recycled, but require specialized bins/Pick-ups:
Computer monitors, keyboards, mice, hard drives, cell phones, CDs, etc
Soft plastics like air packets (deflate them first), bubble wrap, magazine wrap, plastic bags, plastic wrap
Batteries
Lightbulbs
more info on how to dispose of specialized recyclables below
Trash that can't be recycled :(
Candy wrappers
Paper cups with waxy coatings inside
Plastic utensils & straws
Paper towels, napkins, tissues
Styrofoam cups/food containers
Black plastic
Oil-soaked pizza boxes (relatively clean boxes are OK)
Compostable dishware/utensils
MIT's recycling system is "single stream".
That means you don't need to sort paper from plastic/metal. Everything that's acceptable in MIT "single stream" recycling bins:
Aseptic containers (soy milk containers, drink boxes)
Paperback books
Cardboard/brown paper bags (cardboard boxes should be broken down; some tape is okay)
Junk mail/envelopes (all types, including ones with viewing windows)
Glass bottles/jars (any color)
Metal cans (tin/steel/aluminum)
Milk/juice cartons
Newspapers, magazines, catalogs
Paperboard (cereal/shoe boxes)
Pizza Boxes - clean, not soaked in oil
Plastic bottles and containers numbered #1-7 (soda/juice/water bottles) except no black plastic because its color may contaminate other recycling during the breakdown of the plastic material
Plastic food containers, but NOT black plastics
Contaminants like food waste, liquids, and plastic wrap can get caught up in the gears of the sorting machinery or contaminate a whole load of recyclables, causing them to become trash
pictured: Casella "Single Stream" recycling sorting facility
All Recycling Bins Are Created Equal
Just as MIT's campus has evolved and grown, so has its recycling program. Over the years it has progressed from separate white paper, newspaper, can, and bottle recycling to today's "single stream" system that collects all of those and more in one place. As a result, there are many types of recycling bins on campus (some with old labels), but they all feed into the same "single stream" system. So, even if a bin is labeled "white paper only", you should use it for all kinds of "single stream" recyclables.
Contaminants like food waste, liquids, plastic wrap, or items that don't belong in single-stream recycling can get caught up in the gears of the sorting machinery or contaminate a whole load of recyclables, causing them to become trash. Wipe out food waste to remove all but trace amounts, pour out liquids, and be sure you aim for the right bin!
Special Recycling - Batteries, Electronic Waste, Plastic Bags and More
eWaste
eWaste is electronic waste such as Monitors, CPUs, Televisions, Printers, Copiers, and their components (mice, keyboards, speakers, etc.)
Facilities does not charge for the pick up of any electronic items. To request a pick-up of your office CPUs, monitors, printers, fax machines, and other electronics, make a service request on Atlas.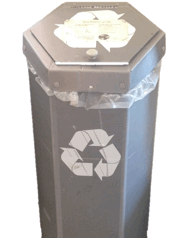 technocycle bins are for recycling small electronics
Techwaste
TechnoCycle is electronic waste related to daily-use technologies, such as cell phones, PDAs, pagers, floppy disks, CDs and CD cases, video tapes, cables, and wires. Eligible items: Portable Devices (Cellphones, Tablets, MP3 Players, and Headphones), Media Storage (CDs [cases and inserts OK], DVDs, and Video Tapes), Computer Periphery (Mice, Wires, Keyboards, and External Drives). Items with an MIT sticker must be deactivated by the Property Office.
For small electronics, please use TechnoCycle bins (as ) located in Distributed Mail Centers. If you have a large amount of TechnoCycle, go to Service Requests in Atlas to arrange for a pickup.
Styrofoam Packing Peanuts
Styrofoam products are expensive to recycle and are toxic to the planet, so please ask vendors to avoid using them.
You can donate reused packing peanuts in clean and usable condition to Mail Services for reuse. To send the peanuts to Mail Services, place sealed bags of the peanuts on top of campus mail boxes, addressed to Packing Peanuts Reuse Program, WW15.
Soft Plastics
Special bins are located in Distributed Mail Centers around campus, at the elevator near the Stata Loading Dock and in the basement of the Stratton Student Center. These soft plastics bags shouldn't be placed in "single stream" recycling bins because they interfere with the materials when being sorted at the recycling facility. Acceptable items include:
● Air packets (deflate them first)
● Bubble wrap
● Journal/magazine wrap
● Plastic bags
● Plastic wrap (must be clean and free of food residue)
● Shrink wrap
MIT accepts for recycling all types of batteries, including alkaline batteries.
Battery disposal bins are located in Distributed Mail Centersand all residence halls. The Student Center basement also has receptacles.
Batteries
Batteries that must be recycled include: rechargeable batteries such as nickel cadmium, nickel metal hydride, lithium ion (button batteries used in watches and hearing aids), laptop batteries, and lead acid batteries. Battery terminals should be taped as a fire prevention measure during collection and transportation.
Lightbulbs
Fluorescent, Compact Fluorescent (CFL), and Light Emitting Diode (LED) bulbs must be disposed of properly per Massachusetts Law. They cannot go in the trash or regular recycle bins. They must be recycled and hazardous materials disposed of properly. To request replacement of broken light bulbs or pickup of unwanted light bulbs, submit a request through Atlas.
Clothing & Books
Donate used or damaged clothing, textiles, and shoes in one of the three Planet Aid bins on campus: between Building 46 and Albany Garage, between Buildings W34/W35 and Kresge Lot, and in Westgate Lot across from Building W71. Even torn or damaged clothes and fabrics are sorted for textile recycling. There's also the Goodwill on Massachusetts Ave.
Donate used hardcover and paperback books in Got Books bins. Book donation bins are located in back of Next House (Building W71) and next to Building 46. Contents of these bins are picked up by an organization called Got Books.
Food Waste
Composting organic material produces CO2. The same items decomposing in a landfill release methane - a gas that has 20 times more potent greenhouse effects. Next time you have a banana, toss that peel in the compostables bin.
Compostables collected at MIT include food scraps such as fruits, vegetables, meat and bones, and leaves from office plants. No "compostable" dishes or utensils are accepted at this time.
FOOD TRUCKS
Food trucks are a great way to grab a quick meal, but they also produce a significant amount of unrecyclable trash such as:
• Food containers with waxy coatings
• Disposable utensils
• Condiment packets
For a more environmentally friendly meal, bring your own containers and utensils.
Groups
Find out more about MIT community groups dedicated to sustainable practices and green lifestyles by reaching out to them below:
Offices and Resources
taken straight from the "Responsible Waste Disposal Practices" education course available on atlas.mit.edu
This course was created by a collaboration between the GSC Sustainability Subcommittee and IS&T, with support from the Office of Sustainability, Department of Facilities, and the Energy Solutions Initiative.